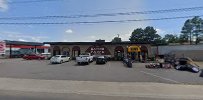 Pawn shop
Casino Pawn Shop
Alma Hwy, Van Buren
3
(10)
Looking for a loan?
This won't affect your credit score.
Reviews
There are 10 customer reviews. Check out their experiences with this business.
S

Samantha Meadows

1

After I got off work, I went to this pawn shop in search of a used Window AC unit. I talk to the guys working about the ones they had available, and told them I was waiting on my boyfriend to get there. They told me about the units and that they had a 7 day warranty there. When my boyfriend got there, he asked if we could plug up the one I had decided on getting. The guy working there said, " if we do plug it in you loose the 7 day warranty". My boyfriend asked him if he was serious?! The guy nodded -yes.That verified a $219 loss of a sale and any further business from me. That's so shady. I usually try n be as fair as I can on review's, and do not do many bad ones. We needed to know it worked equally to the price. Punishing a customer for questioning capability of a unit is bad business. As we were leaving the guy told us to -"enjoy the heat". Bravo man, you have alot to learn about business. 5/15/2

T

Tanner Lewis

1

The owner is one of the most self-centered people I have ever met. Makes you feel like you should feel honored or lucky he will even work with you. Using the term "Rude" doesn't do it just. He saw I had I pocket knife with a sticker from another pawn shop and he turned into a high school girl with the amount of petty he displayed. The guy needs to grow up

C

Crazyass153

1

Do not buy from this pawn shop they said 389 and when I got up there they said 420 then when I had 420 they said 15 more for a PlayStation 4 pro! This is a horrible pawn shop

D

Doc Holiday

5

This is the best i have ever been treated as a valued customer in any pawn shop i have ever visited. Joey helped make a gun transfer from Buds Gun Shop online into a smooth transition for transfer of ownership. Rates are the Best!! These guys are Top Notch. I will Definitely be back. Thank You Casino Pawn.

M

Misty Bartlett

5

I will absolutely do business here again. Joey is a pretty good guy all around, and made the entire purchasing experience smooth and enjoyable. Very fair pricing and excellent selection of products to choose from.

K

Kynna McChesney

5

Friendly workers clean store and up to date products

T

Tom Honeycutt

5

The folk at Casino Pawn are upstanding. There's always bargains in the store. Everyone has a great attitude toward helping you, whether you need to borrow money are looking for some great merchandise. Regarding what the fellow with the Kimber said about bringing in a $1,500 pistol, and being offered $600 for it - get real that's standard in the pawn business. It's only worth what the next guy will pay for it, not what your receipt says you paid.

C

Carlos Dorado

5

I purchased an iPhone 6+ from Casino Pawn shortly afterwards I had an activation issue with the phone. NOT Casino Pawns fault they were scammed by a shady seller. Either way Casino Pawn went well out of there way to fix it. I'm glad they did. I am very satisfied with there customer service. 100% sure I will do business with them again. Honest people here.

M

Mark DeWeerd

1

This pawn shop loaded a 4 wheeler in the back of my truck and broke my back window. The cost is around $400. My friend was also injured when she tried to help because the two employees shoved the 4 wheeler so hard it went through the back window. Now Casino Pawn refuses to pay for the damage caused by their employees disregard for our property and well being even though The Law States that as the owner of the store, the store is responsible for any and all damage occurring on their property. The clerk at the store LIED to us right off the bat saying they werent responsible but the TRUTH is the owner is responsible by law. The owner of the casino pawn is so cowardice that he won't even tell you his name so that's the kind of thing you will find at casino pawn. An owner who won't tell you his name. Wow.

S

Steven Dutton

1

Owner has a problem being asked about its merchandise. Makes it's questionable if I need to buy it. Honesty, integrity and truthfulness is something this store needs to work on, Midland and Towson since its under same ownership. Spreading the word.
Business Info
2120 Alma Hwy, Van Buren, AR 72956, United States
Nearby Title loans in Van Buren
FAQs
1. What Can I Do to Contact Casino Pawn Shop?

One of the easiest way is to call their phone number +1 479-474-4779. Another way is to complete an application through their official website and wait for them to reach you.

3. How Do I Get a Loan from Casino Pawn Shop?

You can visit their store nearby or request a loan on their website. It's worth noting that

an online installment loan

may suit your needs better. We suggest you carefully consider all the possibilities and make an informed decision.

5. What Can I Do if I Default on a Loan?

Failure to repay a loan can lower your credit score. Contact the loan provider as soon as possible and see if you can change the term length.
2. How Can I Get to a Store of Casino Pawn Shop?

2120 Alma Hwy, Van Buren, AR 72956, United States is the address of Casino Pawn Shop. Search for a route online so you can get there fast.

4. Is Casino Pawn Shop an Agency or a Lender?

Casino Pawn Shop is a Pawn shop. If you are wondering how to request a loan,

visit our website

to learn about Fast Title Loans. With a focus on title loans, it can also help you get multiple loan offers.

6. Are There Loans for Bad Credit From Casino Pawn Shop?

Yes. Borrowers can also

visit our website

to apply for an online personal loan with bad credit through Fast Title Loans, which is a reputable loan services provider.