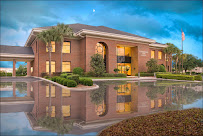 Bank
SouthState Bank
1st St, Winter Haven
2.8
(10)
Looking for a loan?
This won't affect your credit score.
Reviews
There are 10 customer reviews. Check out their experiences with this business.
E

Erin Gray

1

While staff at this local branch are friendly and helpful (if you physically go into the bank), ever since the merger and transition to SouthState, banking here has been a complete nightmare. The technology infrastructure is virtually nonexistent. Statements look like they were typed on a manual typewriter from 1906. Any time you try to call your local branch, your call is routed to a central call center where employees there are practically clueless. We have a construction loan through SouthState and it took us MONTHS to figure out what our payment was. Literally no one on the phone could answer that basic question...until the day the payment was due. They've made (and continue to make) several mistakes on our loan payments (applying our extra principle payments to interest, charging the wrong amount, etc.). We're less than a year out from our loan origination, but we're refinancing anyway because we're so fed up with it. If you're looking for a local bank that's actually helpful and competent, go to Citizens.

Response from the owner

Thanks for reaching out, Erin. We would like the opportunity to try and resolve this for you. Please email [email protected] with your preferred contact number.

A

Ashley Martin

5

Really nice experience. Jasmine is a great asset there, always making me feel welcomed and taken care of. Thanks! On another note: I called this branch to find out if I could get a cashier's check in the drive through because I have a baby with me, and I don't want to bring her inside. So, the lady said yes I can, and off I went. But, once arriving to the teller in the drive through, of course, that's not the case. The first lady I talked to was kind enough to double check for me, however, the second lady I spoke with, had a little attitude and kept calling me mam, and told me if have to go inside. Well, maybe I have to change banks if they can't be considerate of me and my baby. Although I do like this bank very much, but I'd appreciate a bit more consideration for my family. Thanks

Response from the owner

Thank you for the update, Ashley. We apologize for the inconvenience. If you'd like for one of our bankers from that location to give you a call, please email [email protected]

D

Donna Sines

1

My entire loan payment was credited to escrow. When I got late notices I called and they assured me the mistake would be rectified and my coveted credit score would not be affected. Weeks later I received a letter threatened my credit. I made 2 more payments shorting my tight social security budget. When I called yet again it was acknowledged that now 2 major mistakes were made. The money was not taken out of escrow and credited appropriately. SouthState is now in possession of 4 mortgages payments 3 in advance. Due to incompetence my credit score has dropped 40 points. The collections division tells me they can not do anything and I just have to dispute. SouthStates compounded mistake is now my problem.

Response from the owner

Hello, Donna. We apologize for this situation relating to your mortgage with us. Please email your phone number to [email protected] so we can look into this further.

N

Nancy Raia

1

This is one of two of the worst banks I've ever dealt with. When I drove a friend to this bank window all lines had only one or two cars except first window which had 3 cars. Two more cars pulled in behind me. First two cars went through rather quickly. The car in front of me stayed in line for 22 minutes and I didn't start timing as soon as I started waiting. Teller should have ask customer to come inside for such a long transaction. I was trapped in line and could not move to a faster lane. I was so upset as I had another appointment and was in a hurry. When I voiced my opinion on how unhappy I was with service teller threw my friends ID and Bank cards down and left window. Another teller came to help me. I feel the value of customer service is missing at SouthState Bank which use to be Center State. Makes me happy I have a good bank that sets appts for customers that need more time and don't hold up lines at window.

Response from the owner

Hi Nancy. Thanks for leaving us a review. We understand your frustrations and will share your feedback internally. If you would like to discuss your experience further, we would be happy to have a banker give you a call. Please email your full name and contact information to [email protected]

j

jk84pa

1

Never received my June Mortgage statement. I called and waited on hold for 15 minutes to find out they were not mailing them due to being converted to SouthState. I then had to ask when it was due. Turns out due date was in 2 days. What if I hadn't called? I drove to the Auburndale branch. Once I got to the window I had to wait 14 minutes for them to credit my loan payment. I do this monthly and it has always been a 2 minute process. Seems like CSR's did not know what they were doing. Very disappointing in the conversion to SouthState!

Response from the owner

We appreciate you letting us know, and we apologize for this experience.

H

Heather Fish

1

I am so glad I don't bank here! I wrote a check for an amount THOUSANDS of dollars less than the amount this bank withdrew from my account. When I looked at a picture of the cashed check, the check clearly stated the amount that was supposed to be withdrawn. When I tried to call and see what happened, I was told that they could not provide me with any answers....even though it was my account that this error effected.

Response from the owner

Thanks for reaching out, Heather. Please email your contact number to [email protected] so we can have a banker reach out to you directly to try and resolve this transaction with you.

J

Jimmy

1

I was on hold for 10 minutes before I could talk to anyone. Then they told me their Money Market rate was 0.01% - TOTALLY INSULTING.

Response from the owner

Thank you for sharing this feedback, Jimmy. We apologize for the wait time you experience. Feel free to email our team directly at [email protected] with any future questions.

M

Ms. Blackcowgirl Swilson

1

While making a decision on where to locate a professional banking company I, then decided that I would like to bank within my community and I chose centerstatebank. At first the customer service were professional, with quality and opportunities for everyday business banking services and all. Until my health and safety became a new issue and just at the time of our nation pandemic (Covid 19). Centerstatebank did not provide any safety measures while my bank account fraudulent activity was taking place my account was not flagged and I am ready to close this account because after taking all the necessary steps to regain my trust in this bank no one from any department has followed up with me on this issue except the fraud detective which provided this information to centerstatebank and thats not what I signed up for Regrets

Response from the owner

Hi Mabel. Thank you for taking the time to leave us a review. We'd like to understand more about your situation and have a banker contact you about your experience. Can you email us your full name, contact information and a few more details to [email protected]?

S

Sean Taber

1

Terrible service. They messed up when I opened a safety deposit box and were unwilling to do anything to rectify it. The employees are obviously poorly trained and aren't held accountable when they mess up someone's payment. I spoke to the branch manager about it, and she was very rude. She didn't seem to care at all. I told her I was going to close my account due to the atrocious service, and she just said, "Okay, let's close your account then." She actually wanted me to pay a $25 fee for closing the box early. The transaction wasn't even completed properly, and she still wanted to charge me a fee for it. I called customer service to complain and left a message with the district manager. He never even called me back. They clearly don't value their customers here.

G

Geordi La Forge

1

WARNING: My account was hacked at CenterState. Someone got in and changed my security questions. CenterState (FL Headquarters) tried to blame it on me. But I work in the computer field and keep virus, malware and spyware scanners running on all my devices. I never check online banking on an unsecure network. My devices use either a fingerprint or face ID to login so I can't be tracked by keystrokes. I have reported them to the Federal Reserve and hopefully the truth will come out about the security breach that has occurred. RUN AWAY FROM THIS BANK.
Business Info
1101 1st St S, Winter Haven, FL 33880, United States
Nearby Title loans in Winter Haven
FAQs
1. How Can I Reach SouthState Bank?

You can dial their phone number +1 863-551-5500. Another way is to complete an application via their user-friendly website and wait for them to get back to you.

3. How Do I Get a Loan from SouthState Bank?

You can visit their store nearby or request a loan on their website. It's worth noting that

a quick online installment loan

may help you cover an unexpected expense better. We suggest you carefully consider all the possibilities and make an informed decision.

5. What Should I Do if I Default on a Loan?

Failure to repay a loan can harm your credit score. Reach out to the lender as soon as possible and see if you can work out a new agreement.
2. Where Can I Find SouthState Bank?

1101 1st St S, Winter Haven, FL 33880, United States is the address of SouthState Bank. Use online navigation services to get there fast.

4. Is SouthState Bank an Agency or a Lender?

SouthState Bank is a Bank. If you have no idea what type of loan you want,

check out our platform

to learn about Fast Title Loans. With a focus on title loans, it can also help you get all kinds of financial services.

6. Are There Loans for Bad Credit From SouthState Bank?

Yes. Borrowers can also

check out our platform

to get a personal loan online with bad credit through Fast Title Loans, which offers premium financial services.