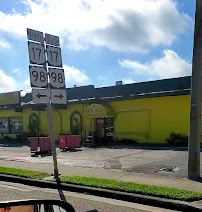 Pawn shop
A Plus Pawn Shop
E Main St, Bartow
3.3
(10)
Looking for a loan?
This won't affect your credit score.
Reviews
There are 10 customer reviews. Check out their experiences with this business.
H

Happy Customer

1

I usually am happy especially when I see other reviews that are positive. However...... This place is aweful! It hasn't been cleaned in 10 years and the merchandise is overpriced even if it were brand new. $900 for a desktop computer from 2008? Really.... $500 for a 6" thick flat screen TV? The first thing someone said to me when I walked in was "I'll give you a deal on whatever you want"..... well I bet you will. Used video games for $49....I'll buy them new for half that. No thanks!!!! If there was a way to get my money I spent on gas to get there I would do it. Maybe they should spend more time trying to improve the store than writing their own reviews. Overall, there wasn't a option for zero stars so they got one undeserved star from me. NEVER AGAIN!!

S

Samuel Staples

1

Do not buy anything from this place. I bought a laptop from them and used it for one week and the laptop stopped working. The screen started blinking and then went black. When I brought it back he told me no returns and no exchanges. They intentionally sold me a broken laptop. Horrible place of business. Do not ever waste your money on them.

C

Christian peaster

1

Traded gun for a brand new in the box laptop on the top shelf with the brand new stickers on them. Laptop filled with previous owners info and pictures and resumes and viruses. Also I had to purchase a new battery so the laptop could run without being plugged in. The previous owners are now aware and lawsuits are in process

C

Chris Powell

2

Beware of this store. The owner bought a gun from me on gunbroker. He didn't respond to any of my emails, and I had to track him down through the internet to find that he owner this store. I called and left a message for him there and only then did he email me saying he didn't want the gun anymore. Not only did he waste my time, but he lost me the sale to another person who actually wanted the gun for $1900. Very shady. BEWARE!!!!!

S

Sean Brinkley

1

Went there with my 55" smart tv. Plugged in and he said Pixels were broken And had a green line on the screen. I told him it was just working fine and if he could plug it into something else to see if it was his DVD player he said no. Came and plugged back in and there was no line. It was his DVD player. Pawmed my tv and gold there a few times. Won't go back

J

Jason Smith

5

What a great experience ! I sold some of my unwanted jewelry and gold. They explained the whole process to me. Very easy, and i felt comfortable. This place is firs class. Would highly recommend!

L

Lolita lola

5

got a laptop from them for $150 and later found out that the same laptop goes for $499 at Best Buy I couldn't believe it I'm still speechless,my mom wants a new laptop for Christmas and this is the place to go!!!I seen over 200 laptops in there this place is huge,THE Biggest pawn shop I even been in.😍😍😍

a

a d

1

NO REFUNDS HE SAID. VERY DISAPPOINTED. BOUGHT A SMART T.V AND NOT EVEN ONE DAY OF OWNERSHIP LINES APPEARED ON THE SCREEN. AS I PRESENTED THE PROBLEM THE OWNER GOT VERY UPSET AND UNPROFESSIONAL ABOUT THE SITUATION.

h

h kader

5

LOVE THIS PAWN SHOP BEEN GOING THERE SINCE DAY ONE THE HAVE THE LOWEST PRICES AROUND AND SOMETIMES IF I DONT LIKE THE PRICE THE GIVE ME A BETTER ONE ITS A PAWN SHOP YOU HAVE TO KNOW HOW TO BUY!!! MY LAST PURCHASE WAS A GLOCK 380 BRAND NEW FOR $250 WHEN THE USUALLY COST OVER $499 YOU NAME IT THE GOT IT GO CHECK THEM OUT

Q

Queen Of everything

5

My experience with this company has been AMAZING! Extremely recommend this company to anybody who values honesty and integrity!
Business Info
1395 E Main St, Bartow, FL 33830
Nearby Title loans in Bartow
FAQs
1. How to Get in Touch With A Plus Pawn Shop?

You can ring them at this phone number (863) 248-7278. Or you can Visit its website and fill in the submission form over the internet.

3. How Can I Get a Loan at A Plus Pawn Shop?

To apply for a cash loan, you can Visit its website and fill in the submission form online. If you are searching for online payday loans with fast approval, you can

visit our website

for more useful info.

5. What Will Happen if I Can Not Pay Back My Loan?

Kindly talk to your lender if you have difficulty making the payments. Different lenders have different standards to deferred payment. Please always read carefully before signing any loan agreement.
2. What Is the Location Of A Plus Pawn Shop? How to Get There?

A Plus Pawn Shop is located at 1395 E Main St, Bartow, FL 33830. You can check the map and locate the easiest way to access this place.

4. Is A Plus Pawn Shop an Agency or a Direct Lender?

A Plus Pawn Shop is a Pawn shop. To bring you the most convenient loaning process, we connect you with a large network of lenders over the internet. You can

visit our website

to get a small personal loan online with no hard credit check.

6. Does A Plus Pawn Shop Offer Loans for People With Bad Credit?

Yes, but if you want to improve your likelihood of success, we just come in handy! Just visit our website to

secure an online installment loan

for bad credit with flexible payment options.