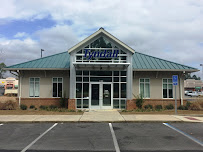 Credit union
Tyndall Federal Credit Union
W Main St, Dothan
4
(10)
Looking for a loan?
This won't affect your credit score.
Reviews
There are 10 customer reviews. Check out their experiences with this business.
C

Christine Oglesby (Gadgetgirl)

5

I and my husband have been members for a few years now. So I can say over a good term now the Tyndall customer services and banking systems are great. No matter if you do mobile app services (sometimes with assisted tech support) or in person they all have great positive customer attitudes. I've had a bank in the past that we used and it was like having to ask for help about ever time when going in. They would stand around and talk until you got their attention. But not with Tyndall because they are attentive to accommodating customers with many different needs. Keep doing what you do Tyndall and we are here fir the long haul.

G

Gabrielle Barbieri

1

My Husband and I have been banking with Tyndall since we moved to Dothan back in 2018, was great for a couple of years but about 4 to 5 months ago they have been messing with our account, once by freezing it to the point l couldn't access our money to buy food and other things for my kids, claiming we had fraud when we didn't, and now with my husband having a new job we are constantly haveing problems with our derict deposit because of them pushing it, and they have the Audacity to try to blame my husband's job even though they are the ones informing us that the bank won't clear the check and then turns to my husband's job having to cut us a paper check. This is Ridiculous and a waste of everybody's time All for a what?! because they're sitting up there not doing anything to try to help fix the problem. We are sincerely thinking of switching banks today because of this ongoing problem. Really qt my last straw with this company.

N

Niki McDaniel

5

How Tyndall doesn't have a perfect 5 star average is beyond me. I have been banking with them for 18+ years. Over the years I have moved several times. I have tried many different local banks but always rely mostly on Tyndall. Once the App came along there was no need for a local bank. I can do all my banking hundreds of miles away. Even depositing checks or applying for loans. Anyone there will bend over backwards to help you out. You use to have to have a member vouch for you to even be a member. Consider yourselves blessed to be able to walk into or logon to Tyndall and open an account(start a relationship). The first and last bank I will ever have. Oh, and last year while we were all struggling.. Tyndall deposited 300$ into my account over the course of the holidays. They're not in it for the money, the money comes back to you! Thank you Tyndall! You're always looking out for me!

E

Emily Green

5

I have been banking with Tyndall Credit Union for about a year now. I love the financial opportunities that this Credit Union provides. I highly recommend banking with Tyndall.

Response from the owner

Thank you, Emily!

D

Doc Hul

2

Deposited a cashiers check from Navy Fed at the DHN branch on Hwy 84. 2500 avail immediately with a hold on 600.00 for 2 days. Missed a phone call from them where they reversed the deposit which looked to be deposited in the wrong account after looking at my receipt. After leaving multiple messages at the extension from which Matt called never could make contact. Navy fed couldn't find where the check was process but a diff employee said it was NSF from a diff branch of Tyndall. I finally went in person to ask for a copy of the NSF check (cashiers check from Navy mind you) and they said it was fraudulent. I about had a cow. I had to do all the leg work for Tyndall giving them the dept. to verify the funds. Meanwhile 6 business days later they credit me with 2500 and hold 600. I'm calling the regulators tomorrow!!! No apology either from Tyndall!! P.S. This is how they don't get 5 stars! See above and they really need to open their lobby back up like the rest of the banking world did months ago in Alabama.

J

Jessica D

5

I love my Tyndall! Everyone knows me there and greets me by name every single time I walk in, asks how my business is going, and overall makes me feel welcome and valued. I've gotten two mortgages through Tyndall and honestly would recommend Debbie Beasock to anyone for above and beyond wonderful service, not to mention the great rates and all the money saved on lending fees! I do all my banking through Tyndall for the ease of it all but also because I truly appreciate the associates at my local branch. Great service goes a long way!

Response from the owner

Thanks so much for your kind words, Jessica! We truly appreciate your membership, and we're happy to hear about your good experience working with Debbie on your mortgage.

J

Joel Bullock

5

Never had a problem with Tyndall Fed Credit Union and have used a few others during my life time. They are always willing take care of any banking needs that i may have from making deposits to making a loan. Their friendly staff makes it a pleasure to do business with. I highly recommend them to everyone who would only want the best in the banking business.

Response from the owner

Thank you for your kind words, Joel. We love doing business with you, as well. Thank you for your membership.

M

M Stevens

4

Went here with my son to get the title to a new vehicle he purchased. I waited outside while he went in with members to pay off their loan and get the title to his new vehicle he had purchased from credit bureau members who were only wanting the payoff in exchange for sale of their Honda Odyssey van. The whole process took less than 20 minutes, I was surprised after reading reviews of TFC being slow. That was not the case for us.

Response from the owner

Thank you for your review and Congrats to your son on his new vehicle purchase! We're happy that your experience was excellent as we're striving to speed the processes up in order to create better member experiences.

J

Jessie Holmes

5

I've been banking with Tyndall about a year now and I have no complaints. I love the small town, customer service feel when I go in. Everyone greets me and treats me very kindly. Jason is sweet as can be, it's nice to have such a friendly bank in a larger city where customer service is tends to fall short at other places.

Response from the owner

Thank you for your review Jessie! We truly value your membership and appreciate the feedback regarding our staff.

W

William Hardy

5

Doing business at this credit union is always a pleasant experience and the new teller I met today, Rebecca, will make it continue to be so I am sure. Wouldn't consider doing my banking anywhere else,everyone is so helpful and friendly here.

Response from the owner

Thank you for your review and for your membership, William. We look forward to continuing to help you with your financial needs!
Business Info
4674 W Main St, Dothan, AL 36305, United States
Nearby Title loans in Dothan
FAQs
1. How to Contact Tyndall Federal Credit Union?

Just make them a phone call through this phone number +1 334-792-0952. Or you can browse its official website and submit the loan form over the internet.

3. How Can I Get a Loan at Tyndall Federal Credit Union?

To apply for a cash loan, you can browse its official website and submit the loan form online. If you are searching for payday advances online with same-day funding, you can

click here

for more useful info.

5. What to Do if I Can Not Pay Back My Loan?

Simply have a talk with your lender if you have difficulty making the payments. Different lenders have different standards to deferred payment. Please always read carefully before signing any loan agreement.
2. What Is the Address Of Tyndall Federal Credit Union? How to Get There?

Tyndall Federal Credit Union is located at 4674 W Main St, Dothan, AL 36305, United States. Kindly refer to the map and find the best way to access this place.

4. Is Tyndall Federal Credit Union an Agency or a Direct Lender?

Tyndall Federal Credit Union is a Credit union. To bring you a fast and easy loaning process, we connect you with a variety of honest lenders over the internet. You can

enter our official website

to secure a personal loan online with no hard credit check.

6. Does Tyndall Federal Credit Union Offer Loans for People With Bad Credit?

Yes, but if you want to improve your likelihood of success, we just come in handy! Just enter our official website to

secure an online installment loan

for bad credit with flexible payment options.