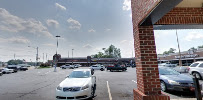 Pawn shop
Quik Pawn Shop
Madison Ave, Montgomery
3.7
(10)
Looking for a loan?
This won't affect your credit score.
Reviews
There are 10 customer reviews. Check out their experiences with this business.
X

X Smith

5

This pawn shop in the past has had some terrible management and at one time vowed to never go back. I did stop in yesterday jan 26th, 2021 and seen a rifle that i liked. A new manager approched me and asked if i would like to see the rifle. After talking with him we struck a deal and i was very exvited about the transaction and how much the atmosphere had changed at this store. I hope he stays the manager of this store for a very long time. Thanks for the experience and i will be back.

A

Amber Kizziah

3

Eddie offered prices lower than what ebay sold my items as. He would not even work within my asking prices . For more than fair condition items. Next time I will choose a different representative.

M

Miriam Belser

5

Eddie is my favorite helper I love him 🥰🥰🥰

E

Edrique Visser

1

As a person who has been in the pawn business I have to say Erick is the reason pawn brokers get bad names and why people always feel chested when they leave a pawn shop. I'll explain what happened to me. And if you read this Erick please explain yourself. I have 8 Go-pro hero 4s most I bought new 2 used. One from a pawn shop and 1 off eBay. Now I was trying to sell mine to Erick and he looked at it everything was there but the cover where the SD card goes I had the charger and cables. Just that new $400 used about $300. Not to Erick though. He went on eBay and said to me... "they sell for $150" and I told him "I don't believe it" I guess that kinda through him off his game... he quickly searched some more and found a Hero Session that sold for $148 on eBay but new they are only $200. TRICKY GUY but if call him a liar HE KNOWS WHAT HE DID. Now my go pro he offered me $100 quite a ridiculous amount for something that will sell for $300 ALL DAY in his store. I know that pawn shops need to make money but pulling numbers off items off eBay and saying that 2 different things are the same is now a honest way to make a living. I did not sell my Go-pro and i will be going to that store again as a secret shopper to see if this theft was just a one time thing or if Erick makes a living stealing. SHAME ON YOU ERICK BE A HONEST MAN.

Response from the owner

Edrique, We apologize for your dissatisfaction with the service you received at our Madison location. We make every effort to obtain high customer service. If you wish to speak with the District Manager over that location, please send an email to [email protected] with your contact information and he will be happy to get back with you to see how we might be able to improve in the future.

M

Melissa Green

1

Do not buy anything from that white guy with the red hair and red beard. He is clueless when it comes down to customer service.whenever you are in the customer service industry THE CUSTOMER ALWAYS COMES FIRST. Not your FEELINGS NOT YOUR PERSONAL OPINIONS. this dude was so busy blabbing and chatting with his buddies and other customers. Meanwhile im standing here in his face waiting to be served. I paid over 100 bucks. And i was being treated as if i had to wait until he got done talking with others before he chose to serve me. He took almost 10 minutes to fill out a form that im sure he fills out every single day(being in the pawnshop industry and all) I'm sure he knows what the pistol buying form is and what are all of the questions that it asks. So why would it take him 10 minutes to answer questions on a piece of paper that he fills out all of the time? He attempted to give me issues about buying my gun simply because my address differs from my ID. even though i am the owner and still have access to that address he insisted i give him something from the government showing my new address (WHERE I SLEEP in his words). Of course i had to go out to my car to find my tag receipts.(total inconvenience) I had it as well as my BRAND NEW PISTOL PERMIT WHICH IS ONLY A DAY OLD. which shows that I apparently don't have a record because I'm holding a brand new pistol license in my hands. So why the dragging with filling out the forms? Why am i waiting until u get done talking to others(even though i was there first) then the guy had the nerve to ask if i needed ammo or anything. IM LIKE AS IF I FEEL LIKE WAITING FOR YOU TO FINISH JABBERING TO GET SOME AMMO PURCHASED. NO THANKS JUST SELL ME THE GUN THAT I AM QUALIFIED TO BUY AND I WILL GET MY AMMO AT ANOTHER STORE THAT APPERICATES THEIR CUSTOMERS AND TREATS THEM AS IF THEIR MONEY THAT THEY SPEND IS WHAT MAKES THEM IMPORTANT.

G

GIG Terry J Sayles Sr.

5

Great place to get top quality merchandise for way less than top jewelers. They also offer a variety of products.

C

Chason Smitherman Sr

5

As a small biz owner sometimes I have slow months. This place helps. Never making me feel less than anyone for having to make a pawn. This is a great staff of people. Erik, Gene, Marylynn, Neicy....thank you!

Response from the owner

Thanks Chason! Come back and see us soon.

B

BYRDIE Yeah

1

Placed a laptop in the pawnshop because my husband needed a loan. When the loan was paid off and got the laptop out of this pawnshop noticed the charger that goes to this laptop had been switched. This is not the original charger that goes to this laptop. Took it back to the store and made a complaint the guy (sales associate)made excuses but he gave 25.00 back from the price that was paid on the loan to get the laptop out. Now were Stuck with a switched laptop charger that doesnt work on this laptop at all period. Wont be shopping here agin.

Response from the owner

Hi there, We apologize about your experience at our Madison location. We hope you understand that the service you experienced is not a representation of our chain as a whole. Would you like to speak with our District Manager over that location? We want to make sure we resolve the issues you described.

L

LAURIE CARROLL

5

Great customer service ! I've been dealing with this pawn shop for years and they have always been fare and more than reasonable. A great place to come when you need money fast ! Thanks guys !

L

Lorraine Randall

5

I came in to buy a spare TV Eddie was excellent
Business Info
2591 Madison Ave, Montgomery, AL 36107, United States
Nearby Title loans in Montgomery
FAQs
1. How to Contact Quik Pawn Shop?

You can call them at this phone number +1 334-264-9961. Or you can enter its website and submit the request form over the internet.

3. How Can I Get a Loan at Quik Pawn Shop?

To apply for the loan you want, you can enter its website and submit the request form online. If you are searching for online payday cash loans with same-day funding, you can

turn to our platform

for more useful info.

5. What Can I Do if I Can Not Repay My Loan?

Kindly talk to your lender if you are likely to fall behind on the monthly payments. Different lenders have different policies of overdue payment. Please always check out carefully before signing any loan agreement.
2. What Is the Address Of Quik Pawn Shop? How Can I Get There?

Quik Pawn Shop is located at 2591 Madison Ave, Montgomery, AL 36107, United States. Just look up the map and find the best way to access this place.

4. Is Quik Pawn Shop an Agency or a Direct Lender?

Quik Pawn Shop is a Pawn shop. To bring you a fast and easy loaning process, we enable you to access a full range of lenders over the internet. You can

visit our website

to secure a personal loan online with no hard credit check.

6. Does Quik Pawn Shop Offer Bad Credit Loans?

Yes, but if you want to higher your chances of getting approved, you can turn to our broker service! Just visit our website to

get an installment loan online

for bad credit with affordable monthly payments.