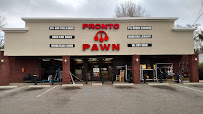 Pawn shop
Pronto Pawn - Moffett Rd.
Moffett Rd, Mobile
3.4
(10)
Looking for a loan?
This won't affect your credit score.
Reviews
There are 10 customer reviews. Check out their experiences with this business.
V

Violita Hikk

1

I have somethings in pawn and I asked the lady could they hold my stuff until the 17th and I called and they told me my stuff was sold already will never do business with them again.

J

Jr Carr

1

I went here today to cash a payroll check because my bank was closed already and and my experience was terrible. I was asked multiple questions about why I didn't just cash it at my bank then I was accused of printing my check off my computer at home. The guy I spoke with was extremely rude. Do not recommend and they will definitely not have my business. Would give zero but I had to select at least one.

C

Candace Lowe

5

The staff made my christmas shopping super easy. An employee named Sam was especially helpful; super friendly & knowledgeable. Will definitely be back. Thanks for helping!

T

TheLittleDreadyBoy

4

Had a pleasant experience buying my new to me Fender guitar. Glad to have been able to strike a deal!

S

Susan Johnson

1

Purchase tons of things from this store at midget. Happy customer. Service great. Mr. Paul good. However purchase 4wheeler yesterday for my mothers birthday. Get it home. They explained had to charge battery. Still don't work. Called them same day advised to bring it back for them to try to start it. Load it back up. Pay to get it back down there. Asked for refund within 24 hours of purchase. Said NO. Against policy. Could try to fix it. I said REFUND. They said No. they gave me a "layaway receipt". I left it there. Came home. Called them and still waiting to get a REFUND of my money for 550.00 4wheeler that never worked. What kind of business is this kind. Next step if not resolved today 8/29/20 by 7pm is BBB and

S

Sarah Umberger

5

I seldom take the time to write reviews, but I had an exceptionally great experience at Pronto Pawn tonight. I called two Eddie's first and was treated like vermin both times. I was just about to throw in the towel when I called Pronto and Brandon Dunklin answered. I have never had to pawn anything, but everyone can fall on hard times and Brian made me feel like a human being. He was kind and professional and encouraged us to come see him and that there was nothing to be embarrassed about. When my husband took the tablet in Brian was all smiles, explained the process, and paid us a fair price. This young man is a major asset and i will send all my friends and family in to see him when they are in a pinch or are looking to buy something. I realize that Eddie's is the Goliath around here, but their reputation seems to get worse and worse. Remember who won that fight! Great job Pronto and thank you Brandon. You guys now have a life long customer and i will spread the word any chance i get!

D

Dennis Lang

5

I visited Pronto Pawn at the moffett road location because I don't believe all reviews that people post!! Pawn shops are places where people go that NEED cash or if you are looking for a good deal. Now... I did not need cash, but I was looking for a good deal on a used piece of equipment. I found it here!! I also had a very nice person help me with my choice. They plugged it in to make sure it was working and I left a happy person!!

F

Felicia A. Lee

5

Quality respectful service each and every time from some very cool guys

M

Ms. Gracefully Broken

5

AWESOME PLACE! I GAVE 5 STARS BCAUSE I COULDNT GIVE 10. COLTON IS THE ABSOLUTE BEST SALESMAN, HANDS DOWN PERIOD. ALL TGE OTHER SALESMAN ARE TERRIFIC ALSO. CHASE RUNS THE PLACE & HE IS GREAT. JOE NEXT DOIR ON THE MONEY STORE SIDE IS THE MAN IF U NEED A LOAN OR A REASONABLY PRICED CAR. I AM FOREVER A (VIP) CUSTOMER @ PRONTO. (they have an awesome gun selection to)

K

Keshon Hunt

5

One of my favorite pawn shops the guys here are super nice and well organized with a variety of things to choose from. They will also work with you ! Love it!
Business Info
4114 Moffett Rd, Mobile, AL 36618, United States
Nearby Title loans in Mobile
FAQs
1. What Can I Do to Contact Pronto Pawn - Moffett Rd.?

You can dial their phone number +1 251-344-3270. Another way is to complete an application on their website and wait for them to get back to you.

3. How Do I Get a Loan from Pronto Pawn - Moffett Rd.?

You can go to their shop or request a loan on their website. It's worth noting that

a fast installment loan

may address your needs better. We suggest you carefully consider all the possibilities and make an informed decision.

5. What to Do if I Default on a Loan?

Failure to repay a loan can lower your credit score. Reach out to the lender as soon as possible and see if you can work out a new agreement.
2. How Do I Find Pronto Pawn - Moffett Rd.?

4114 Moffett Rd, Mobile, AL 36618, United States is the address of Pronto Pawn - Moffett Rd.. Use online navigation services to get there fast.

4. Is Pronto Pawn - Moffett Rd. an Agency or a Lender?

Pronto Pawn - Moffett Rd. is a Pawn shop. If you have no idea what type of loan you want,

visit our website

to learn about Fast Title Loans. With a focus on title loans, it can also help you get the best deal.

6. Can Borrowers With Poor Credit Request A Loan From Pronto Pawn - Moffett Rd.?

Yes. Borrowers can also

visit our website

to apply for an online personal loan with bad credit through Fast Title Loans, which is a reputable loan services provider.