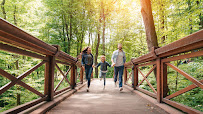 Bank
PNC Bank
20th St, Birmingham
1.6
(11)
Looking for a loan?
This won't affect your credit score.
Reviews
There are 11 customer reviews. Check out their experiences with this business.
K

Kit B

1

I had a check sent to me by this bank and it's have been 3 weeks and they still haven't contacted my bank so it can be off hold. This bank needs to be shut down. Because they obviously don't care about their business.

S

Sharon Conley

1

I have had trouble dealing with this company for years with trying to pay my bill online and it's has gotten worse and worse as time has gone on. If you can find another place to get a car loan through I highly suggest it....

b

bobby loops

1

i have never vwaited so so so long to speak to anyone worst ive ever seen wih a Bank I can understand why Compass Bank has such terrible reviews. Wow how do they stay in buisness WOW....

D

Debra Thomas

5

customer service at this branch was very helpfulI and the teller I spoke with before the customer service he was extremely helpfulI do recommend banking at this branch

O

OTM Members

1

This company is geared to take money from it's customers. HIGH HIDDEN FEES!!! POOR CUSTOMER SERVICE!!! CREDIT CARD PROGRAM & SUPPORT in SHAMBLES. One year of experience banking with this company was the absolute worst ever. Buyer Beware!!!!

L

Linda Giddings

2

i HAVE BEEN WITH THIS BANK CARD SINCE IT WAS COMPASS AND HAVE ALWAYS KEPT MY ACCOUNT IN GOOD STANDING. TODAY I HAVE BEEN ONLINE WITH VARIOUS REPS TRYING TO FIGURE OUT WHY MY ONLINE ACCOUNT WAS NOT ACTIVATED SO THAT I COULD PAY MY BILL ONLINE. FINALLY A YOUNG LADY FIGURED OUT THAT BBVA HAD THE INCORRECT BIRTHDATE.. SHE WENT ON TO INFORM ME THAT IT DEFINITELY WAS AN ERROR ON THEIR END SINCE SHE FOUND IT LISTED CORRECTLY IN THE OTHER SYSTEM. I ASKED FOR A SUPERVISOR NAMED MIKE WHO SAID THE ONLY RESOLVE WAS TO GO INTO A BANK......HE SEEMED TO BE UNAWARE OR UNCARING THAT WE ARE CURRENTLY UNDER COVID CONDITIONS TO A PANDEMIC LEVEL .AND HENCE SINCE IT WAS BBVA'S ERROR I WOULD BE MORE THAN HAPPY TO ASSIST THEM IN GETTING IT CHANGED ONLINE. AFTER ALL THEY ALREADY HAD ALL OF MY PERTINENT PERSONAL INFO. HE CONTINUED TO GO ON THIS RANT ABOUT GOING TO A BRANCH....i INFORMED HIM AGAIN ABOUT THE COVID EMERGENT STAY AT HOME CONDITIONS OF WHICH HE WAS TOTALLY OBLIVIOUS. HE EVEN ASKED IF I WANTED TO PAY MY BILL WITH HIM. THIS REALLY BOTHERED ME SINCE HE OBVIOUSLY HAD NO IDEA THAT I HAD ACTUALLY CALLED IN AND FINALLY REACHED SOMEONE TO PAY MY BILL EARLIER SINCE I DID NOT RECEIVE A BILL IN THE MAIL... HE DID EVERYTHING TO UNNERVE THIS CUSTOMER TO A DEGREE SHE HAD NOT EXPERIENCED EVER BEFORE WITH A SO-CALLED "CUSTOMER SERVICE REP"... THESE ARE IN DEED TROUBLING AND DESPERATE TIMES WHICH CALL FOR DESPERATE AND CLIENT-ORIENTED SOLUTIONS. THIS WAS AN ISSUE THAT SHOULD HAVE BEEN RESOLVED AMICABLY, AND NEEDS TO BE ADDRESSED TO PREVENT REOCCURENCE..

r

robert holloway

1

atm only accepts deposits,lol,went inside to withdrawal money and nobody in there and had to wait 4.5 minutes for employee to get off there phone to help me then took there sweet time on top of that

V

Victor A. Pacheco

1

The true the BBVA Bank is not available for any sky the customer service and staff is incompetent, bad service.l need legal assistance

'

'Sean Ceschia- Real Estate Agent'

1

Worse Customer Service, Do not bank with them. I called customer service 3 times and they hang up on my for problem on their end! BAD!

B

Beverly Jack jones

1

I have the right to which teller I want to wait on me I am a regular customer the Manger is very rude and there was no sign up saying that she was closed he standing there running his mouth with the teller this is the bank on Airline in Houston Texas I am thinking about moving my bank account and my husband is thinking about the same thing
Business Info
15 20th St S, Birmingham, AL 35233, United States
Nearby Title loans in Birmingham
FAQs
1. How to Contact PNC Bank?

Just make them a phone call through this phone number +1 205-297-1986. Or you can Visit its website and fill in the submission form over the internet.

3. How Can I Request a Loan at PNC Bank?

To apply for the loan you want, you can Visit its website and fill in the submission form online. If you are searching for payday loans online with fast approval, you can

click here

for more useful info.

5. What Can I Do if I Fail to Pay Off My Loan?

Kindly talk to your lender if you feel it hard to repay the loan on time. Different lenders have different solutions to late payment. It is important to check carefully before signing any loan agreement.
2. What Is the Location Of PNC Bank? How to Get There?

PNC Bank is located at 15 20th St S, Birmingham, AL 35233, United States. You can check the map and select the easiest route to access this place.

4. Is PNC Bank an Agency or a Direct Lender?

PNC Bank is a Bank. To bring you the most convenient loaning process, we can link you with a full range of lenders over the internet. You can

enter our official website

to secure a personal loan online with no hard credit check.

6. Does PNC Bank Offer Loans for Bad Credit?

Yes, but if you want to improve your likelihood of success, you can turn to our broker service! Just enter our official website to

get an installment loan online

for bad credit with affordable monthly payments.