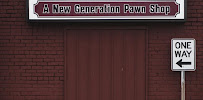 Pawn shop
Pawn Plus
N Porter Ave, Norman
4.6
(10)
Looking for a loan?
This won't affect your credit score.
Reviews
There are 10 customer reviews. Check out their experiences with this business.
S

Stephen McDonald

5

AWESOME!!! I was looking for a small, cheap TV for my elderly mother so she could have one in her room. She was looking for a tube TV but of course those have been hard to find for years now... I called and told them my budget and they actually pulled a 32" Sony flatscreen OUT OF THE BACK, cleaned it up right there and sold it to me for a great price - even LESS than I told them I could spend! I really appreciated that they didn't just jack the price up since this TV was not even on the sales floor, and I am so glad I was able to surprise my mom with a TV today. That really meant a lot to the both of us and that's why I wanted to leave a 5 star review. This is also the first pawn shop (or even guitar store, honestly) I've seen in about 3 years that had a selection of left handed guitars - I counted 4 or 5. That's awesome too! I might have to go back and buy one.... This is a great pawn shop, their prices are NOT outrageous like most of them... I will definitely be back. THANK YOU PAWN PLUS!

Response from the owner

Thank you for your business and thank you for the review! We will be happy to help you anytime!

g

gamer shea

5

The best pawn shop in Norman. Great people with amazing attitudes and genuine want to help you out. Love this place, keep up the great work.

K

Kaiti Metzger

5

I have been a patron here for many years, and each visit has always yielded a positive experience. I sold a camera to them many years ago, and the whole process was quick and painless and they gave me a good deal for it. I mostly buy here nowadays, and they always have the best deals and excellent customer care. After having frequented other pawn shops that had me believing that all of them were staffed by intimidating people who couldn't be bothered to give you the time of day, Pawn Plus of Norman is a really refreshing change of pace that my boyfriend and I return to shop at again and again. Never change!!

Response from the owner

Thank you for the review! We appreciate your business!

K

Kameron Shaver

5

Great experience, friendly staff, fantastic prices! Will definitely be coming back. Great bike selection, too!

R

Robinson's Repurposed

5

Amazing welcoming staff. Clean. Jewelry selection is on point!.

Response from the owner

Thank you for your review!

K

Kelly Stout

5

This is my go to Pawn shop for deals. I'm greeted the moment I walk in. Everyone is always wearing a mask which is huge for me right now to do Christmas shopping. I hit this pawn shop every holiday or even when I'm looking for random electronics and don't want to pay New prices. I've purchased laptops, TVs, iPhones, headphones, gaming accessories and even my latest Chromecast, about $5-10 cheaper than every one else selling second hand. 100% recommend.

Response from the owner

Thank you for your review. We appreciate your business!

I

Ian Palmerton

5

BEST PAWN SHOP EVER BRING YOUR BUSINESS HERE!!! Ok guys I have been pawning things for up to 5 years and this is the place. Crew is awesome, they will try and work with you, most places are very cold and dry when it comes to customer service. Straight forward no funny business. Apparently the have even set up a policy to call to remind you of your items becoming past due etc. Other notes lots of guitars and musical equipment can be acquired from this establishment for a respectable price as well. Best pawn, BEST PAWN SHOP IN OKLAHOMA hands down. Wouldn't go any where else!

Response from the owner

Thank you Ian. We appreciate your business with us.

K

Kayla Tristano

5

Absolutely love this place. Kind people who are there to help you. I've been dealing with them at least 10 years and I wouldn't go anywhere else!

Response from the owner

Thank you for your business Kayla!

R

Rhi Rhodes-Barrios

5

The owner and staff at pawn plus are always helpful and courteous. They are independently owned and operated , NOT a chain store. They know most of their customers by name and go above and beyond to give fair market prices on gold , silver, jewelry, electronics and tools. My husband and I pawned my very special one of a kind wedding rings in order to help give Christmas to our newly adopted child about TWO YEARS AGO. We feel on many hard times following the pawn and were only able to keep paying the interest on my rings . The staff was always helpful and would even go so far as to extend our time limit until pay day rolled around on many occasions and I am pleased to say that upon picking them up this last week the owner Bob was just as happy and excited to see me get them back as I was to be getting them back. I will never use another pawn shop. Please support your local business and shop here for gifts and or work related tools and if you ever need a loan THIS IS THE PLACE TO GO !

Response from the owner

Thank you for the review! We're always happy to help!

M

McLoven43

1

I have used this pawn shop for years I had pawn a few drills and saws before got $60. Went back to pawn the exact set again they wanted to give me $20. Would not budge at all on price. They use to be really good to me now I take back every thing I said about them. The guy that started helping me the manager walked away and left one of his crew to basically tell me to f off your sol
Business Info
126 N Porter Ave, Norman, OK 73071, United States
Nearby Title loans in Norman
FAQs
1. How to Contact Pawn Plus?

You can call them at this phone number +1 405-701-3950. Or you can browse its official website and fill out the application form over the internet.

3. How Can I Request a Loan at Pawn Plus?

To get starterd, you can browse its official website and fill out the application form online. If you are searching for online payday cash loans with easy application, you can

visit our website

for more useful info.

5. What to Do if I Fail to Repay My Loan?

You can communicate with your lender if you have difficulty making the payments. Different lenders have different policies of overdue payment. Please always check out carefully before signing any loan agreement.
2. What Is the Address Of Pawn Plus? How Can I Access It?

Pawn Plus is located at 126 N Porter Ave, Norman, OK 73071, United States. Kindly refer to the map and find the best way to access this place.

4. Is Pawn Plus an Agency or a Direct Lender?

Pawn Plus is a Pawn shop. To bring you the most effective loaning process, we allow you to get access with a large network of lenders over the internet. You can

visit our website

to secure a personal loan online with no hard credit check.

6. Does Pawn Plus Offer Loans for Bad Credit?

Yes, but if you want to higher your chances of getting approved, you can turn to our broker service! Just visit our website to

secure an online installment loan

for bad credit with affordable monthly payments.