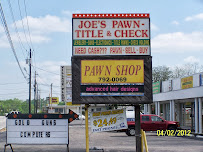 Pawn shop
Joe's Pawn - Title & Check
Montgomery Hwy, Dothan
4.4
(10)
Services
Gun Transfers Paydays Loans
Looking for a loan?
This won't affect your credit score.
Reviews
There are 10 customer reviews. Check out their experiences with this business.
C

Chris Luther

5

Honest. Straight forward. Works with integrity. You can expect straight forward answers to your questions if you are pawning or buying products from Joe's. I called to ask him about a few items to pawn, and even though it was a loss of business for him, he directed me to 2 other shops I would receive more money from. I was surprised by his sincerity and professionalism.

Response from the owner

Thank you for calling me. It was an absolute pleasure talking with you today. We have been here since 1993 and it has always been our mission to help the local community, whether you do your business with us or not. We are here to help.

J

Jonathan Odom

5

I've been a customer since Joe has opened the pawn shop. He has always been affable, and quick to kid and share the occasional joke. I've bought several items from him and he is usually willing to let me inspect the item and negotiate price. I would highly recommend checking his shop out.

Response from the owner

Thank you. I love leaning new things from my customers and you have taught me quite a few things.

T

Terry Bain

5

Have been a customer for years and have bought items there at a good price that I still have today. From anniversary gifts to rare gadgets it's always interesting to go in there. Watched the place grow a lot and have even bought a car or two from there. It's always easy to run to the newest place and I have seen some pawn shops come and go but it's good to have somewhere to go that only changes for the better but still remember who you are when you walk in the door.

Response from the owner

Thank you. It is people like you that make me want to be in business for 23 years

A

Andy Proctor

5

i have been a customer with joes title pawn for about 20 years and you cant ask for better people. they have never been rude to me or my family. every time iv been in there its always been great service. soooo if you want the best service go see joe. hes a great person to deal with. thanks joe for everything you have done for me over the years

Response from the owner

Thank you for letting me be there for you. You are always welcome here.

J

Joe Jackson

5

I love this place. I PROMISE that I will be as fair as I can be with all of my customers. But there will be some people that I just can't do what they want me to do and for that I am truly sorry. Every person that come through my door, I will treat them as they treat me, with respect. If I can help you, please come by or call me. I am very grateful for all of my customers for the last 24 years.

S

Steven Downs

5

Joe has always been fair and easy to work with. He will go out of his way to help u any way he can. Sometime at the expense of his own... I would recommend Joe to anyone that wanted to pawn or do any business with them!!!!!

Response from the owner

Thank you. Customers like you make me smile every day :)

S

Stacie Bennett

5

I have been going to this pawn shop for 7 plus years. The shop is small, but they do offer a lot of different types of things for sale. With their repeat customers, you beome family to them. I always check there first when looking for something specific.

Response from the owner

Thank you. I try and Thank you for coming to my shop

T

Taryn Cooper

1

When in, the man never give u time to talk. Rude on top of that plus its nothing in there to shop in that lil space not even guns. Looking 4 him to go bankrupt soon or later.

Response from the owner

Ms. Taryn Renae Cooper. Apparently I have offended you in some way, for that I apologise. I never intentionally mean to be rude to any customer. If I was rude or disrespectful to you in any way, again I apologise. I truly wish you would have brought it to my attention, where I could have addressed any difficulties you had with me or my store. As a matter of fact, I did ask you how could I help you and you stated that you where just looking. You are correct that we are a small shop, but we do have a good variety of merchandise, including guns. If you would like to discuss your concerns, Please call me at (334)792-0069 Joe Jackson, - Joe's Pawn - Title & Check - est. 1993

Z

Zach Melvin

1

Very rude and unprofessional I rather take my money to money Mizer trying to tell me that my gaming. Desktop processor won't play games and I play games on it every day so have a good day Joe

Response from the owner

Copy and paste this to your web browser to find out what kind of person he is. And he calls me rude. https://www.wtvy.com/content/news/Pansey-man-arrested-in-Tallahassee-sex-sting-operation-432476803.html 6-16-2020 HENRY COUNTY, Ala. (WTVY) -- On June 12th, 2020 agents with the Henry County Sheriffs Office/Abbeville Police Task Force completed a month-long investigation and arrested Zachary Bunyon Douglas Melvin, age 25, of Dothan. Melvin is charged with electronic solicitation of a child, with the minor being less than 12 years old. Melvin's bond was set at $200,000. He was also out on bond in Houston County for similar charges. In 2017, Melvin was arrested in connection to an undercover child sex sting operation out of Tallahassee. The Henry County Sheriff's Office would also like to thank Dothan Police Department and ALEA and their SBI Agents who assisted in the investigation. More charges are pending in this case.

J

Jessica Johnson

5

Went in there yesterday he explained everything to me about a computer that I needed to know. He is very far on his prices. Will diffently stop in more.

Response from the owner

Thank you for shopping with us. If there's anything we can help you with, just let us know.
Business Info
1597 Montgomery Hwy #1, Dothan, AL 36303, United States
Nearby Title loans in Dothan
FAQs
1. How Can I Get Connection With Joe's Pawn - Title & Check?

You can dial this phone number +1 334-792-0069. Or you can browse its official website and fill out the application form over the internet.

3. What Services Can I Find In Joe's Pawn - Title & Check?

Joe's Pawn - Title & Check offers you plenty of loan products which include: '

Gun Transfers Paydays Loans

' You can

get a vehicle title loan

if you have a free vehicle title on your name.

5. Is Joe's Pawn - Title & Check an Agency or a Direct Lender?

Joe's Pawn - Title & Check is a Pawn shop. To bring you the most convenient loaning process, we allow you to get access with a long list of trusted lenders over the internet. You can

secure a personal loan online

without hassle.
2. What Is the Address Of Joe's Pawn - Title & Check? How to Get There?

Joe's Pawn - Title & Check is located at 1597 Montgomery Hwy #1, Dothan, AL 36303, United States. Kindly refer to the map and find the best way to access this place.

4. How Can I Request a Loan at Joe's Pawn - Title & Check?

To get the loan you need, you can browse its official website and fill out the application form online. If you are looking for

payday loans online

with fast approval, you can turn to our loan broker service for more useful info.

6. What to Do if I Fail to Pay Off My Loan?

You can communicate with your lender if you are likely to fall behind on the monthly payments. Different lenders have different standards to deferred payment. It is important to check carefully before signing any loan agreement.

7. Does Joe's Pawn - Title & Check Offer Loans for Bad Credit?

Yes, but if you want to improve your likelihood of success, we just come in handy! Just

turn to our platform

to secure an online installment loan for bad credit with flexible payment options.