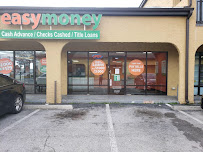 Financial institution
Easy Money
University Dr, Huntsville
2.9
(10)
Services
Express Loan
Financial Solutions
Notary Services
Tax Preparation
Tax Services
Looking for a loan?
This won't affect your credit score.
Reviews
There are 10 customer reviews. Check out their experiences with this business.
C

Cynthia Dowdell

5

Hello Huntsville, Recently, my daughter and I relocated here so that she can attend college. Now honestly Huntsville, I have met my share of rude people, but I cannot and I will not saying I'll make such a comment towards the two nice ladies who works at Easy Money which is located at 4820 University Drive. I don't understand why their ratings are only 2.7 which is ridiculous! From my personal experience Shenikka and DeDe are the most kind and humble hearted ladies I've met and we've been living here almost one year now. We all know that when you go into an office or business you expect people to become magicians but they work in customer service. And there are some very rude people that can come and expect whatever the situation is it should automatically be okay for them to adjust but it doesn't work that way! You have to be very kind to people if you want them to be kind to you. You have to be humble when you want someone to help you and you would get the same treatment in return. So don't be fooled by this low rating that you see on this Google app because it's not true. These ladies will work with you any kind of way they can and is done without prejudice. So when you go into this store you can ask for either of them and I guarantee you they will be nice, they will be kind, and they will be very understanding of your situation and if they can help you they will. But don't go into the office or any business with a bad attitude oh, because of you bring me a bad attitude you may get one in return depend on the situation. So be very nice and kind to them as you want them to be to you. Don't say something bad about someone just because you had a messed-up situation that could not be fixed so you want to get back at a person by giving them a bad review it doesn't work that way. Be nice and kind and you'll get the same results in return. laser doing a real good job I appreciate you and keep on doing what you doing because you doing good work for this community that's so need you. And if corporate does not appreciate you for the work that you do then maybe they should come and switch places with you to see the type of situation that you deal with everyday because I think you all are doing a hell of a job and from my standpoint from what I see with my own two eyes, keep doing what you doing because your proof in the pudding of good customer service and what it's about. If if corporate does not appreciate you just know that we do parrot God bless you keep up the good work and I'm praying for your safety there it is terrible crisis that we are now in but only temporarily. Thank you very much and God bless you👍💯😘

A

A F

5

They were very helpful, courteous, professional. Shenitta was by far one of the most helpful & nicest people. She worked with me till we found a solution. Thank you!

Response from the owner

We're delighted to hear about your positive experience at EasyMoney. We care about every team member and your input is important to us. Thanks for taking the time to leave your review!

B

Bre Blanding

1

If I could rate with no stars I would, but in order to leave a review I have to give this unprofessional establishment one star. I came to this unprofessional establishment today to pay my loan and I was not even greeted , the employee who took my payment had an attitude from the beginning. When I proceeded to leave after I got my payment processed, I believe the manager of the poor establishment made a comment to one of her employees and said "why she looking at me like that "? And I responded by saying who ? She proceeded by saying "why you looking at me like that "? I responded by saying ," you looking at me , we made eye contact , I am not looking at you any kind of way calm down" The manager needs to learn some professionalism, even if I was looking at you some type of way why would you say that to an employee? It's a shame that I cannot even go back to this location because of how I was treated today. The two employees should Be a shame of themselves. FIND ANOTHER DAY JOB!!!

D

Dominique Jones

1

First of all they sent a check to my bank account that I had already made good on and than had the nerve to say it was my fault because I came in two days later. But even so if you knew that check was sent to my account why wasn't I told when I came in to pay. They took my money and still let my account be billed for not having the funds available to cover the check. But not to mention the fact that I was told from the beginning that it wasn't there check that was sent out. Now I'm out of more money than I was before I borrowed the money in the first place.

Q

Queen Velvet

1

Shemeciea or whatever her name is, seemed totally incompetent. I called and asked how much check cashing fees were and she told me I'd have to come in so she could see what kind of check it was. I complied. When I arrived, gave her my check, and asked her how much the fees were, I got no response. She went mute, and started photocopying my check. So I demanded my check back and left. Customer service was horrible today. After leaving, I checked the Easy Money website, and it says check cashing fees are posted clearly in EVERY Easy Money lobby and Shemeciea failed to point that out on the phone and in person. I called Corporate and left a message, and I decided to leave a review. They should pick more service oriented people to employ. I will take my business elsewhere.

j

jamal vans

1

They're main lady or woman attitude needs adjustment she needs better people skills the younger lady isn't the problem.

n

norma havranek

5

Shenitta and Dede were wonderful. They were able to straighten out a problem that no one else could solve for us.

Response from the owner

Thank you for your feedback! Your shared comments are appreciated. If there is anything else we can do to make your experience better, please let us know. Thanks again for choosing EasyMoney!

Q

Quran Davis

1

Worst company ever. Don't deal with them please don't . Sherita or whatever her name is needs to be fired ASAP !! She's horrible . She hung up in my face and was super rude . The whole company itself it's horrible. Trust me !! Very unprofessional. Everyone needs to be fired

J

James Owens

5

This store has great customer service, they helped me with all my transactions even on a Sunday I highly recommend anyone who is looking to cash a check to come here

l

leo o

1

Ask one more question and she shows impatience and poor service

Response from the owner

We are sorry that we did not meet your expectations. It is our goal to always provide an excellent experience. We have forwarded your concerns to management for further review. For immediate assistance, please call our Customer Service Department at 1-855-920-9800.
Business Info
4820 University Dr. NW, Units 1 & 2, Huntsville, AL 35816
Nearby Title loans in Huntsville
FAQs
1. How to Get in Touch With Easy Money?

You can dial this phone number (256) 217-5980. Or you can Visit its website and fill in the submission form over the internet.

3. What Lending Services Can I Find In Easy Money?

Easy Money provides you with a variety of services which include: '

Express Loan
Financial Solutions
Notary Services
Tax Preparation
Tax Services

' You can

get a vehicle title loan

if you have a clear car title on your name.

5. Is Easy Money an Agency or a Direct Lender?

Easy Money is a Financial institution. To bring you a digital loaning process, we connect you with a full range of lenders over the internet. You can

obtain a fast personal loan online

in a swift manner.
2. What Is the Address Of Easy Money? How Can I Get There?

Easy Money is located at 4820 University Dr. NW, Units 1 & 2, Huntsville, AL 35816. You can check the map and select the easiest route to access this place.

4. How Can I Get a Loan at Easy Money?

To get starterd, you can Visit its website and fill in the submission form online. If you are looking for

online payday cash loans

with same-day funding, you can go to our official website for more useful info.

6. What Will Happen if I Fail to Pay Off My Loan?

Simply have a talk with your lender if you are struggling with the monthly payments. Different lenders have different policies of overdue payment. Please always read carefully before signing any loan agreement.

7. Does Easy Money Offer Loans for Bad Credit?

Yes, but if you want to higher your chances of getting approved, we can help you out! Just

click here

to secure an online installment loan for bad credit with easy monthly payments.