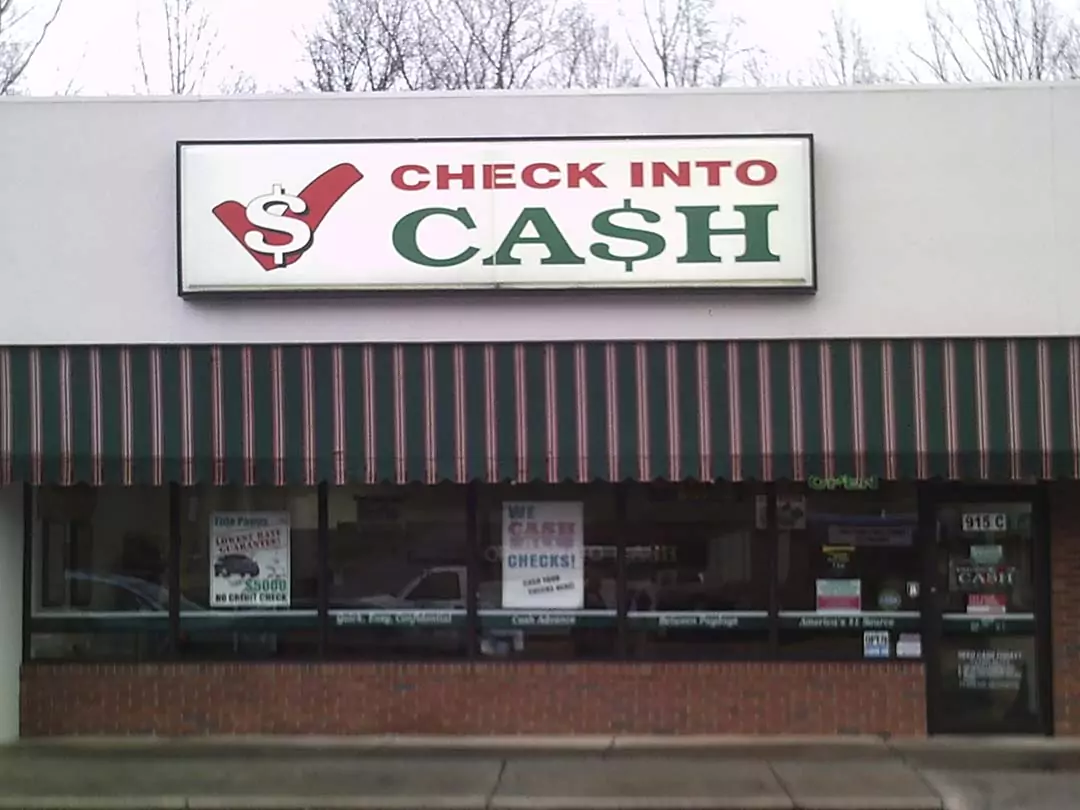 Financial institution
Check Into Cash
Jefferson St, Athens
2.7
(6)
Services
Cash Advance
Check Cashing Services
Financial Services
Home Loans
In Store Cash Loans
Loan By Phone
Loan Funds
New Loan
Online Lending
Online Loan Application
Quick Cash
Quick Money
Looking for a loan?
This won't affect your credit score.
Reviews
There are 6 customer reviews. Check out their experiences with this business.
I

Ivy Rutherford

5

I absolutely love these people. I've been coming here since around July and have NEVER had any problems at all. I love how they work with you and are genuinely understand lding when it comes to certain situations. I was even late on my last payday loan and they were super cool about it. If it wasn't for this place i would have fallen so behind on bills i probably would have lost either my carbor my home or both

T

Tyler Knipper

1

Went in to cash a check for a friend who is unablE to do so at the moment. Called the 800 number to main office. They confirmed it was ok and they would cash it. When I arrived... Amazingly Psychotic Person went off for even asking such a transgression. I thought it was a Halloween prank. But it was March. Never met a hag or a hun quite like this one! Pure Evil and Trouble! Not to mention the red eyes and tattoos...She had a toadie who backed every move and word. I could not ever get out the fact I had just called the main office 10 minutes earlier. I was scared for my life! If your a sensitive person don't even think about it. She has an authority complex and lives in a world of delusion and bi polar disorder would be my best guess. Shes the evil queen of high interest check cashing. Gives a whole new meaning to preying upon the poor or predatory lending as some call it. Called cops on me for backtalking too. I think they were just as shocked as I was that a professional or lack there of, business would act in such a manor. I complained and they didn't fire her nor would anyone return my calls nor emails. I think they were scared of her too. If your looking for trouble then roll on in and test the waters. Someone please put her back in her cage before she is hunted down by the local witch hunt committee...Yes...She was speaking in tongues by the time the police arrived. They scolded me a little for upsetting her but I don't blame them. I'd rather deal with a person with Narcissistic Personality Disorder than encounter that evil again. I don't think we are in Kansas anymore.

Response from the owner

Tyler, we appreciate your review, and notification of your experience. At Check Into Cash we take customer service very seriously. Your experience is not the one we want or intend to provide. Please feel free to leave a formal complaint by calling 1-800-504-9101. Our Customer Service Representative will forward your complaint to the appropriate parties. Thank you so much for your feedback and business.

P

Paula Toon

1

I called and talked to them and told them it would be the 9th of july before I could make it in. Well jully the 5th I check my bank and it was over deawed I called the store and all they could say was it was set in the 3rd. Well no thanks to them I want have my damn check comes pay day. Unlije the people tgat works here I live pay check to pay check and now I cant make my car payment nor get gas or pay the INS on it. Thanks a lot.

Response from the owner

Thank you for sharing your feedback! We would like to apologize for the troubles and frustration that you experienced lately. Your feedback will give us the chance to resolve any problem that may occur and assist us in making our services better. For any questions or further assistance, please feel free to call us directly at 1-800-504-9101 and one of our customer service representatives will be happy to assist you.

D

Dixie Lesley

1

Rude and will find any reason not to loan. Don't waste your time

Response from the owner

Thank you for sharing your feedback. We take feedback and concerns seriously and make every effort to address them. That said, feel free to contact us at 1-800-504-9101 or [email protected].

T

Troy Boshers

5

The staff is always friendly and cooperate with you

S

SpaceLord 4Life

1

At several locations is a pain to even get a money order

Response from the owner

I apologize for any inconvenience this has caused. At Check Into Cash, we take your feedback and concerns seriously and make every effort to promptly address them. If you have any other concerns or would like to speak to a Customer Service Representative, please feel free to contact us directly at 1-800-504-9101 or email [email protected].
Business Info
915 Jefferson St SE, Athens, AL 35611, United States
Nearby Title loans in Athens
FAQs
1. How Can I Make Contact With Check Into Cash?

You can dial this phone number +1 256-232-9466. Or you can enter its website and fill in the submission form over the internet.

3. What Lending Services Can I Find In Check Into Cash?

Check Into Cash can connect you to plenty of loan products which include: '

Cash Advance
Check Cashing Services
Financial Services
Home Loans
In Store Cash Loans

' You can

secure a title pawn loan

if you have a clear vehicle title under your name.

5. Is Check Into Cash an Agency or a Direct Lender?

Check Into Cash is a Financial institution. To bring you the most convenient loaning process, we can link you with a long list of trusted lenders over the internet. You can

obtain a fast personal loan online

in a swift manner.
2. What Is the Address Of Check Into Cash? How Can I Get There?

Check Into Cash is located at 915 Jefferson St SE, Athens, AL 35611, United States. You can check the map and select the easiest route to access this place.

4. How to Apply for a Loan at Check Into Cash?

To apply for the loan you want, you can enter its website and fill in the submission form online. If you are looking for

online payday loans

with same-day funding, you can visit our secure platform for more useful info.

6. What Can I Do if I Fail to Repay My Loan?

Simply have a talk with your lender if you have difficulty making the payments. Different lenders have different solutions to late payment. Please always read carefully before signing any loan agreement.

7. Does Check Into Cash Offer Loans With Bad Credit?

Yes, but if you want to improve your likelihood of success, we can help you out! Just

click here

to apply for an installment loan online for bad credit with easy monthly payments.