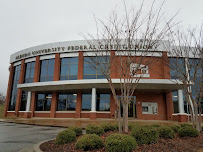 Credit union
Auburn University Credit Union
S Donahue Dr, Auburn
3.5
(10)
Services
Personal Loans
New Used Auto Loans
Checking Accounts
Savings
Regular IRA C Ds
Mobile Banking
Financial Services
Financial Wellness
AT Ms
Drive Thru Video Tellers
Lobby Services
Notary Services
Looking for a loan?
This won't affect your credit score.
Reviews
There are 10 customer reviews. Check out their experiences with this business.
K

Kate Evans

1

Over poor customer service experienced at both the main branch as well as the secondary location. Today I went to the main location to close out a credit card which I had been calling to resolve for months and have been sent to voicemails without calls back, or they send me an automated recording. The loan officer was polite and helpful, however; when trying to pay the $20 to close the credit card one of the lead customer service representatives, used sarcasm, disrespectful tones, and completely lack of customer service skills in my interaction with her. When asking a simple question about having to do a cash advance to close out my credit card, she even responded with "that's like asking why the sky is blue," when giggling. This kind of poor customer service, along with an incident that happened where they gave out check to an unknown woman that were attached to my bank account is why my family, after being a member for 14 years, have decided to switch credit unions to one more customer service friendly.

Response from the owner

Hi Kate, Thank you for taking the time to give us feedback. We would like to reach out to you and discuss your experience. Can you send us a private message with a number we may contact you? Thank you!

C

Cornetta Randell

1

I can't believe this! The weekend of Father's Day they've frozen my account and then not even open lobby nor drive thru, needless to mention won't answer any calls!!! I'm livid I can't wait to get my funds removed!

M

MsBratKat Martin

5

Bradis Worthington did a refinance for my daughter. The interest rate was much better than previous rate, consolidated her car and credit card debt and payment is still lower. This was huge for a college student that is paying her own tuition and living expenses as she works towards her degree. Please reach out to him, he was amazing......knowledgable, professional and efficient. BTW, she is not an AU student, she attends UA in Tuscaloosa and he still went above and beyond.

Response from the owner

Hi Ms. Martin! Thank you for your feedback! Bradis has done a great job serving our members and we appreciate your daughter's business. We will certainly recognize his outstanding efforts!

F

Falana Cooper

1

No lie Everytime I go to the Auburn University credit union 1448 N College St, Auburn, AL the wait is long even if you go inside. Like one person on drive thru and 1 person inside. Maybe they're short staff and that's understandable however if you don't want to work there Quit.

M

Michael Miller

1

Deposited a LARGE check from "ABC" to my personal AUFCU shares account. 9 months later that same check, for the same large amount, was debited a 2nd time against the account of "ABC." This was a physical check (for deposit only) that I deposited/left with AUFCU. ABC's financial institution actively investigating. I will pursue with AUFCU when I find someone that is available to investigate. There are only a few possible explanations. I highly suggest you actively monitor all personal financial accounts. FDIC should provide protection but it is in your best interest to catch issues early and not rely on timely communication from your financial institution.

A

Arthur Lamounier Moura

2

The staff was really helpful and attentive, and tried to solve my situation and provide me the information I needed. However, if you're an international student, they do not allow you to open the simplest account without having a Social Security Number with you. This is very odd, considering that all the other banks in town accept the regular immigrant documents, such as visa, I-20, passport, etc. Also, Auburn University is an institution that receives lots of International students for all over the world every semester and this Credit union did not think of a good solution for this type of customer... Since I had to open an account in one way or another, I had to choose another bank, in my case Chase Bank... So be aware of that if you're an international student!

Response from the owner

Mr. Moura, AU Credit Union accepts one or more of the following documents for a non-U.S. person: - Taxpayer Identification Number - Passport Number and Country of Issuance - Alien Identification Card Number - Number and Country of Issuance of any other Government-Issued Document evidencing nationality or residence and bearing a photograph or similar safeguard We sincerely apologize if one or more of the above mentioned documents were provided to us but denied at the time of your account opening. Please still consider AU Credit Union as a trusted financial institution in your local area, and contact [email protected] about reapplying for membership with one or more of the documents listed above.

J

John Beede

1

One teller working, other employees sitting around spraying each other with lysol or sanitizer laughing. Line of people waiting. Finally one of the other workers Baye calls me up to cash a check. She was completely incompetent and calls for help. Other lady comes over and tells me they are going to have to put a 4 day hold on my check (under $300). I told them no, close my account. Other lady walks away and the teller is standing there staring off into space. Other lady comes back, and she says yes he wants to close the account, (I had been standing there for 5 minutes.) This place needs qualified people, not kids who like to play around. And Baye, grow some brains.

Response from the owner

Hi John, thank you for your feedback. Please email [email protected], so we can address this issue.

G

Gary Pike

1

This bank is the most inept bank you will ever deal with. I have had to go back and have my debit cards re-ordered many times because they are just incapable of typing a name correct and when they do type it right it gets in the wrong account. Their online service is a joke, they do not have a technology department, and some of the people apparently do not appreciate their jobs. Good luck trying to get anything resolved at this credit union.

E

Eli Henry

1

Not a real credit union, tried to deposit a check into an account I have with another credit union bank. The teller told me they only do there own account holders. They need to change the name to Auburn university bank, not federal credit union.

s

summer leigh

5

Auburn University Federal Credit Union is a great credit union to use when you love to invest your money, they have plenty of atms on campus so yay no fees! the one thing you have to do is research before you go to any credit union. plenty of credit unions don't participate in "share-branching" which will allow you to enter into your at home credit union its a very costly process to have and doesn't benefit the credit union. one thing AUFCU is not going to do is screw you over and if you have a problem they're going to bend over backwards to help you out. you can't read reviews base off of others because something didn't go their way. i highly recommend them to use.
Business Info
1290 S Donahue Dr, Auburn, AL 36832, United States
Nearby Title loans in Auburn
FAQs
1. What Can I Do to Contact Auburn University Credit Union?

You can dial their phone number +1 334-844-4120. Another way is to complete an application on their website and wait for them to contact you.

3. What Does Auburn University Credit Union Offer?

Auburn University Credit Union provides various services including: '

Personal Loans
New & Used Auto Loans
Checking Accounts
Savings
Regular IRA CDs

' You can also

request an online payday loan

if you have a stable income.

5. Is Auburn University Credit Union an Agency or a Lender?

Auburn University Credit Union is a Credit union. If you are not sure where to get a loan, you can turn to Fast Title Loans. With a focus on

online title loans

, it can also help you get multiple loan offers.
2. How Can I Get to a Store of Auburn University Credit Union?

1290 S Donahue Dr, Auburn, AL 36832, United States is the address of Auburn University Credit Union. Use an online map to plan a route beforehand so you can get there fast.

4. How Do I Take Out a Loan from Auburn University Credit Union?

You can visit their store or request a loan on their website. It's worth noting that a quick online installment loan may address your needs better.

Click here

to have a look. We suggest you carefully consider all the possibilities and make an informed decision.

6. What to Do if I'm not Able to Pay Back a Loan?

Failure to repay a loan has a negative effect on your credit score. Reach out to the lender as soon as possible and see if you can find a solution.

7. Can People With Bad Credit Get a Loan From Auburn University Credit Union?

Yes. Borrowers can also

get a personal loan online

with bad credit through Fast Title Loans, which is a reputable loan services provider.