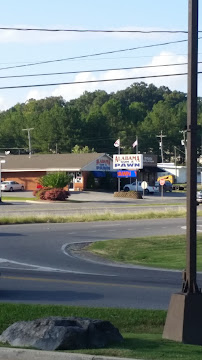 Pawn shop
Alabama Gun & Pawn Inc
US, Russellville
3.6
(7)
Looking for a loan?
This won't affect your credit score.
Reviews
There are 7 customer reviews. Check out their experiences with this business.
M

MyKoL LoKyM

5

I love these guys. Any time I am in town, I stop in to help support this local business. Everyone is friendly and treats me like I was raised next door. See you all on my next trip I to town.

Response from the owner

Thank you for for the supportive comments! We appreciate your business and will be pleased to have you stop by anytime you are in town.

S

Shane Akers

5

This is one of, if not the best place I've ever had the pleasure of doing business with when it comes to transferring or purchasing a firearm. Mr. Jeff Smith as always been extremely helpful and friendly with every transaction I've ever been a part of there. Not only do they sell and transfer firearms, they also have a pawn business. I've never used that aspect of their business, but going over some of the negative reviews that are posted on here, it makes you wonder if people don't understand the concept behind a pawn shop. It's like they expect to go in there to pawn something and get what they paid for it or either what they think it's worth. Then, if they happen to not come back and pick it up, and happen to see it for sale in the store they're upset because of the sale price that's put on it. The pawn shop is in the business of making money. And I've always thought that that's how you make money is to buy low and sell higher. But hey, what do I know? But I do know that it's a pleasure doing business with Jeff Smith at Alabama Gun and pawn and Russellville Alabama.

S

Snipek7

5

to the people that want to complain about a PAWN SHOP ripping you off on all your valuables and reselling it a lot higher, open your eyes that's what a PAWN SHOP is if you want full value of your stuff then out right sell it oh wait, that's sometimes difficult. if you buy furniture, guess what...it has a 600% mark up, i.e. your getting ripped off cars are the same its how sales work you put a little money into the product and turn it for a high profit if you don't like it then open your own pawn shop and buy peoples stuff for what they think you should and try to sell it to the next guy that's expecting a great deal you want be in business long because you want be able to pay the bills get your head out of the sand you sissified liberal

L

Libtards are the leading cause to cancer

1

Expensive, cheap-made guns there. Do not go there, They have crappy, overly expensive items as well. They want to rip you off on your valuables, then sell it for top dollar. Be weary of this crooked pawn shop. Have sense and do not shop there.

T

Trollgunner9000

1

Terrible place of business. The guy that runs it has an attitude problem. Most of the items there look cheap and breakable... Would not stop there unless you have a taste for s***.

C

Chris Brown

4

They have always done me right even if I forget about a pawn they will help to get it took care of

K

Kyle Duke

5

Very nice people and willing to help you
Business Info
15347 US-43, Russellville, AL 35653, United States
Nearby Title loans in Russellville
FAQs
1. How Can I Reach Alabama Gun & Pawn Inc?

We advise you to dial their phone number +1 256-332-1108. Another way is to complete an application on their website and wait for them to get back to you.

3. How Do I Take Out a Loan from Alabama Gun & Pawn Inc?

You can head to their shop near you or request a loan on their website. It's worth noting that

a quick online installment loan

may help you cover an unexpected expense better. We suggest you weigh your options and make an informed decision.

5. What to Do if I'm not Able to Pay Back a Loan?

Failure to repay a loan has a negative effect on your credit score. Contact the lender as soon as possible and see if you can find a solution.
2. How Do I Find Alabama Gun & Pawn Inc?

15347 US-43, Russellville, AL 35653, United States is the address of Alabama Gun & Pawn Inc. Use online navigation services to get there fast.

4. Is Alabama Gun & Pawn Inc an Agency or a Lender?

Alabama Gun & Pawn Inc is a Pawn shop. If you are wondering how to request a loan,

check out our platform

to learn about Fast Title Loans. With a focus on online title loans, it can also help you get all kinds of financial services.

6. Can Borrowers With Poor Credit Request A Loan From Alabama Gun & Pawn Inc?

Yes. Borrowers can also

check out our platform

to get a personal loan online with bad credit through Fast Title Loans, which is a reputable loan services provider.